Choice Home Warranty
When you pay a company to help you when things go wrong, you want to make sure that backup plan is trustworthy. Like insurance, home warranty cover helps pay the bills when appliances or systems break down. But it's more like a service contract, meant to help replace or maintain certain aspects of your home and property. This is often necessary when you least expect it and have no other source of capital to help you fix electrical wiring or replace an appliance.
Choice Home Warranty is a well-known brand name when it comes to this unique type of cover. But is it the company you want to initiate a service contract with? Our Choice Home Warranty review will help you make an informed decision.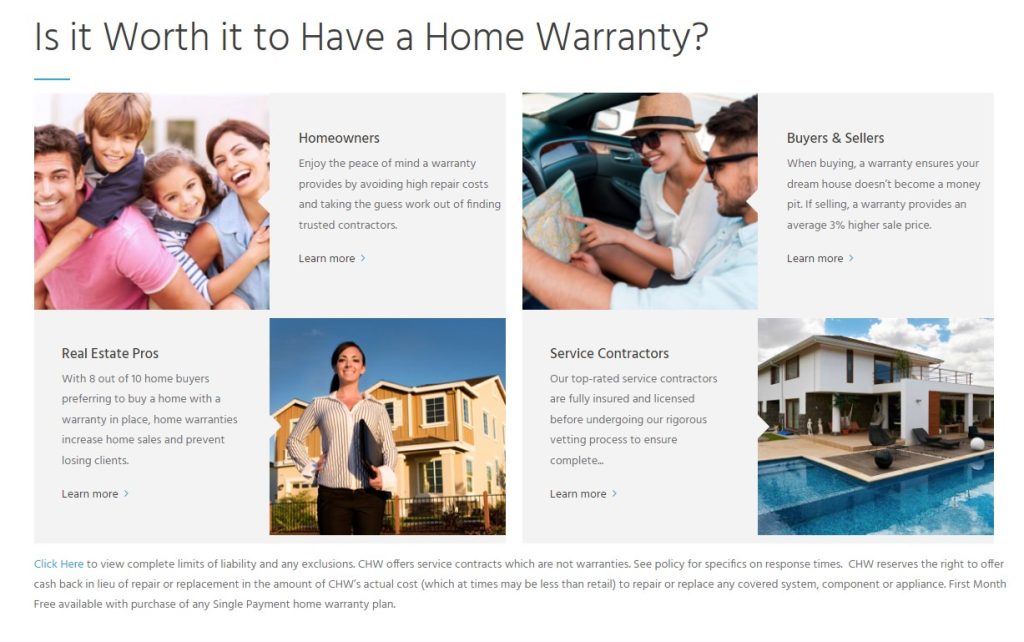 Choice Home Warranty Overview
Choice Home Warranty's skill in this niche is clear from their years of activity. They were founded in 2005, giving them almost two decades of experience. This they acquired through handling over 5,000,000 service requests—so far. Their headquarters are in New Jersey, but they can assist across the US.
With Choice Home Warranty you gain access to a network of contractors that CHW is familiar with. So, when something goes wrong, you know there's an option of a vetted professional tending to the problem. This network is over 25,000 strong. Over 1,600,000 homes in the US have home warranty cover from CHW. Also, their online review ratings are impressively high. So, it seems that in general they offer a positive service to their customers.
Choice Home Warranty Sectors
CHW understands that having a home warranty agreement in place can be very beneficial when selling property. New owners may make decisions faster when they know there are experts that are easily available, should anything go wrong soon after they move in. Whether you're a homeowner, selling a home or active in the real estate business, this brand aims to meet your needs. This is clear from having dedicated information for each group on the brand's website.
Choice Home Warranty Features
Available Plans
The brand offers two different plans: a Total Plan and a Basic Plan. This gives customers some flexibility so they can align their cover with their budget.
Quoting
You'll appreciate the fact that CHW doesn't charge you for quoting on its services. So, there's absolutely no reason not to give them a try. In addition, the brand doesn't necessarily do a site visit to initiate a service contract with you. This means you get your agreement in place faster, with minimal effort.
Costs
Overall, CHW offers customers competitive pricing. Along with that, you may be eligible for a free month's services, but only if you purchase a single payment plant.
Furthermore, there are fees you'll need to pay whenever you need their assistance. This includes a trade service call fee, and it applies no matter the eventual repair or replacement costs will add up to. The company does offer discounts for these call out fees, but you need to contact them to find out if you're eligible for the benefit.
Furthermore, do budget correctly and read the fine print. For example, you may pay additional fees when you decide to pay monthly rather than annual premiums.
We also suggest you keep an eye out for specials, such as New Year Deals, where you can get $50 off your account.
Availability
When you're facing a crisis such as your electrical or plumbing system being damaged, waiting can result in more problems and repair costs. Therefore, a company like CHW that offers 24/7 call centre's carry so much value.
Service Area
This is a brand you can contact for coverage no matter where you are in the US. They have experience working in multiple states and their network of contractors includes individuals from all over the country.
Easy Claims Process
For starters, it's easy to contact the company in the event of a problem, all thanks to their call centers that are open around the clock. In addition, you can submit a service request through an online account portal. This online platform also makes it easy to follow up on the progress of a specific service ticket.
Contractor Options
There are both benefits and drawbacks with CHW's method of operation in terms of contractors. Rather than picking your own, you can choose from their technician network, which stretches across the country.
Of course, some customers appreciate that they don't have to vet contractors or waste valuable time trying to find someone. However, in the case of knowing about a vendor that provides quality service and whom you trust, you may feel it's unfair that you can't use this preferred technician of your choice.
Whether this is a problem, or an advantage is up to personal preference.
Personal Customer Service
A huge advantage is having a vendor representative that's familiar with your account. Although CHW doesn't allocate a single person to your account, you won't be redirected to just anyone in the company when you do contact them. There will be a small team that handles your account and you'll always be directed to one of them. So, you'll speak to someone that has some insight about your cover and service requests.
What Does CHW Cover?
You can expect CHW to cover all the traditional aspects related to home warranties. However, there are a few services you can only access via the Total Plan and its higher premiums:
Refrigerator cover
Clothes washer cover
Clothes dryer cover
Air conditioning systems
Main Features
Choice Home Warranty is a strong contender in the industry, offering value for money and user-friendly processes:
1 month free
Easy sign up
Different plans to pick from
24/7 call centre services available
Special offers, such as $50 off for a New Year Deal
Pros
Countrywide coverage
Easy onboarding with no visit necessary
Reasonable rates overall
Can contact them any time
Long history in the industry

Cons
Even refrigerator cover requires the higher plan
Various additional fees
Some concerns about charging for cancelled services
Call out fees apply
Final Thoughts
It's clear why CHW obtains so many 5-star reviews from happy customers—they provide an overall beneficial service. You do need to read the contract in detail, so you know exactly what you're paying for. But with a team of contractors ready to help when disaster strikes at your home, Choice Home Warranty is worth getting a quote from.